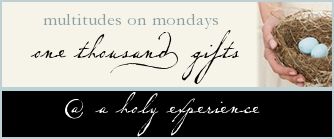 797. ice cold water on a hot day
798. no work
799. 30 Days of Lists
800. homemade chicken nuggets
801. labor day picnics
802. getting along and working together to accomplish a goal
803. serving others
804. laughing til I cry
805. ice pack relief
806. shopping with my family
807. time to be creative
808. double dollar coupons
809. 2 free photobooks to document our summer
810. card games with my sister
811. beginning to cancel weekend work !!!!
812. websites, footnotes, and the Holy Spirit to make a tough passage of Scripture more understandable
813. options
814. Jasmine flowers with their sweet, sweet fragrance
815. a summer full of memories
816. old Wii games
817. filling in the blank spots of my albums
818. discovering my talents
819. family game night, with just the 4 of us! Love it!!
820. hanging out at home with just my mom and my sister :) just because!