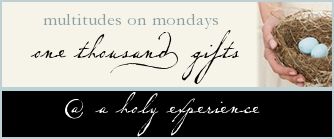 127. the ability to have fellowship with God
128. celebrating the Lord's table
129. the gift of organization
130. a nearly completed to-do list!
131. activated 5% cash back on my gas card
132. mother-daughter chats
133. dad's willingness to drive me to my hearing
134. custom made bouquet from Ashley
135. my photo printer works!! (after sitting in the closet "needing repairs" for almost 2 years!)
136. quick responses
137. little naps
138. prayer
139. good friends to hang out with
140. praise songs
141. Hallmark movies. so good.
142. CD/bonds from my great grandmother we didn't even know about!
143. grilled cheese and tomato soup
144. received a $10 Starbucks gift card
145. spending quality time with my busy sister
146. "date" night with my dad
147. received my AC Moore gift certificate just in time to use my almost expired 50% off coupon (and I NEEDED to go shopping to!)