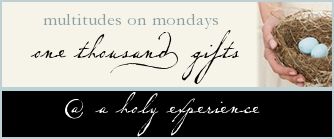 106. Missionary testimonies
107. children's church
108. sweatpants and sweatshirts (it may not look very cute, but oh the comfort)
109. so many resources at the library
110. finished my DT submission
111. made a facebook page for my "business". Check it out
here
.
112. encouragement and support of friends on my new endeavor
113. the amzing power of a pile of dirt to keep children busy for over an hour!
114. God's constant promises
115. sister time
116. made some sample scrapbook pages
117. God knows. God cares.
118. found 2 pictures that had been missing for over a year!!
119. stayed within the grocery budget
120. the book Having a Mary Heart in a Martha World
121. started working on typing up my recipes
122. to do lists
123. scrapbooking old pictures
124. new tires
125. memorizing Scripture
126. a sister who is willing to fight for my discount (I am NOT confrontational at all!)