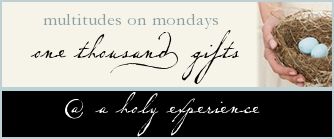 289. Resurrection Sunday!! He is alive!! He is Risen!!
290. Memories of visiting an empty tomb
291. I cooked a ham
292. Peeps
293. organizing April's schedule (can't believe it's April already!)
294. seeing an old friend while driving
295. waves from my sister as she passes me on the highway
296. avoiding late fees
297. not having to get up early to dog sit
298. the ease of a hot glue gun
299. blister/calluses from working hard
300. getting the last cup of coffee
301. receiving my picture order (134 pictures to get me caught up)
302. put together 9 weeks of my project life album
303. donating clothes
304. Spring. robins. buds.
305. capri weather
306. spray adhesive
307. bank deposits
308. compliments
309. competition while playing a card game
310. Making a 2 week supply of frozen breakfast burritos for my dad to start eating healthier.