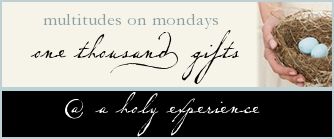 266. new clothes from a friend
267. freshly swept car carpets
268. working side by side with my dad
269. purged my closet. . .love that feeling
270. cream cheese brownies, yummy
271. good snowman making snow!
272. good snowboots :)
273. afternoon naps
274. good weather and a great day at the zoo with the birthday girl!!
275. watching my sister open her 40+ surprise birthday cards!!
276. my car passed inspection, nothing extra needed
277. able to spend an hour alone with God (outside my quiet time)
278. started a life/purpose statement
279. some dance fun
280. God's constant protection
281. cinnamon spice scone from Panera, as a treat from a friend
282. Xbox Zumba workout
283. guy at Starbucks bought my coffee when they refused to take my coupon :)
284. father-daughter(s) afternoon walk, even though he was busy and right in the middle of something
285. opened all the windows in the house to air it out after several weeks of illnesses
286. Easter dinner prep with my mom and sister!
287. trying new techniques on our eggs this year
288. family game time