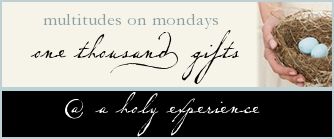 1009. comfort of the Word of God
1010. redemption of the Lord
1011. twinkling Christmas lights
1012. received our 1st Christmas card, always love that moment!
1013. throat drops
1014. hot tea with honey, it's always interesting when your sick the things you are grateful for :)
1015. God's perfect plan and design for my life
1016. great communication in the company I work for
1017. helping mom with her Secret Santa fun, both my mom and I love to give and I love to make it creative!
1018. homemade Chicken noodle soup
1019. reminiscing while putting together a Christmas gift
1020. freshly vacuumed carpets
1021. to-do lists and the joy of crossing things off
1022. the feel of cold crisp air in my lungs, so refreshing
1023. the ability to help out in an emergency work shift (and I was able to work with my supervisor, which I always enjoy!)
1024. brand new respirators, even though I loved my old pink one!
1025. creative brainstorming time
1026. sticky bun breakfast with my parents
1027. childlike faith
1028. chewable vitamins
1029. finished my project!!