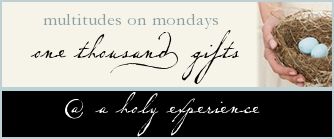 540. Wawa iced coffee to start my day
541. a job well done yesterday equaling another cleanroom job on Friday!
542. 2 truckloads of free mulch to do our entire yard
543. organizing with planners
544. finishing my study on the book of Zechariah
545. the promise of a future in Heaven
546. picture fun with dad and Carrie
547. early morning walks
548. seeing old friends who are now new neighbours
549. hanging out after work with my supervisor
550. a glass of ice cold milk
551. Project Life at Michaels!!!
552. snacking on cheddar popcorn
553. taking fun pictures for my scavenger hunts, the ability to be creative
554. watching the mam bird feed her babies
555. emails sent to my supervisor saying we've done awesome work
556. Starbucks Chai and scone
557. good waitresses
558. hanging out with my family
559. sightseeing
560. backyard campfire
561. receiving a handmade card with a handwritten, personal, heartfelt note