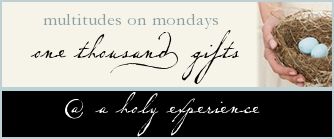 295. I serve a risen Savior
296. Awesome Sunday school lesson
297. watching Smurfs with my family
298. getting paid for a job I forgot I did
299. Flowering trees/bushes in the backyard
300. Easter baskets full of chocolate
301. Big Bang Theory. . .who doesn't love Sheldon?
302. Project Life inspiration and a huge giveaway!
303. fresh baked pound cake
304. extra work hours
305. finally got my full training scheduled
306. fun workout routine
307. cleaned my car windows, inside-out
308. received my first paycheck from my new job
309. getting good feedback from my coworkers that my boss thinks I'm doing a great job. . .what a comfort to know he can see how hard I am trying to learn everything!
310.ablity to work on a team of Christians
311. safety driving on I95 during rush traffic and tons of fun hanging with friends
312. saw Will Smith at the Sixers game!!!
313. shopping with my family
314. caught some great deals at the mall
315. gorgeous weather for yard work