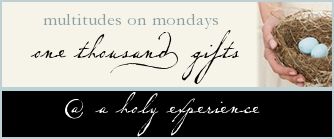 967. the freedom to praise and worship the Lord
968. high heels, it seems like a silly thing to be grateful for, but I love my heels :)
969. Sunday lunch with my parents
970. college friends home for Thanksgiving, oh how I have missed them!
971. God's mercy is never ending and all sufficient
972. baking with my mom
973. seeing and pointing out constellations, looking at the stars in general makes me so very thankful, what a great big God I serve!!!
974. journaling prompts and projects
975. good cardio workouts
976.sharing my car with someone in need of transportation
977. a bountiful and delicious Thanksgiving meal
978. reading inspiring blog posts
979. gorgeous weather in November, not a big fqan of cold so I am overly grateful for warm sunshine
980. my parents
981. the book of James
982. safety and sales on Black Friday
983. won a copy of the Project Life e-book, awesome inspiration!! Just the creative lift I needed
984. setting up the tree with my sister and reminiscing over all the ornaments we've received throughout the years
985. laughing with my family so hard we had tears running down our creeks and cramps in our sides :) Love those moments!!!
986. Project Life sale on Amazon
987. family date night! (I got so caught up in the moment I didn't want to pause for one second to snap a picture!)