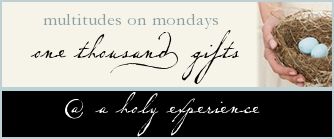 946. hanging our flag out in honor of our veterans
947. Rachel came home for a surprise weekend visit
948. free turkey
949. good painting weather to start another pinterest project (I will share more details on that when it is complete)
950. mini albums
951. working with Branden
952. wearing my great grandmothers jewelry
953. being used by God
954. holding a hot mug of coffee in my hands on a chilly morning
955. reading thru old journals
956. reminder that there is no pain or tears in heaven, as a dear friend entered eternity
957. carpooling with my mom
958. friends who ask, "what is God doing in your life?"
959. honey in my tea
960.pictures for a penny
961. sun shining thru the clouds and making the fall colors more vibrant
962. nursing my dad back to health
963. reading a Proverb a day
964. starting a new journal
965. people who can tell when you need a break, and make sure you get one!
966. extra time with my dad as he was home early every night this week!!