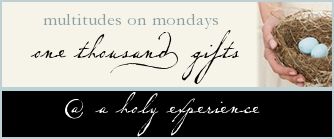 400.fun mother's day pictures
401. great afternoon hike
402. season finale night
403. my cousin, Paige, is graduating high school!
404. received my PL package
405. patient and instructive coworkers
406. rain let up just enough for an afternoon walk
407. 2 free 8x8 photobooks
408. completed a weekly performance alone
409. found and destroyed the actual ant's nest thta had been plagueing the kitchen!!! Bye Bye little ant queen!
410. happy mail
411. cute email from a friend that made me smile
412. fianlly got the okay to sign off on any paperwork at work (it's a long process to get the okay!!)
413. quick in and out grocery trip
414. safety training
415. good conversation with coworkers. . .it's so nice to fianlly work with a group of people that I can actually take time to talk to!
416. Jack's pizza for dinner, my favorite
417. beautiful sunshiney day! Gorgeous!
418. girls shopping trip
419. picnic dinner in the backyard
420. sister photo shoot, we ended up with alot of funny outtakes! This is one of my favorite's