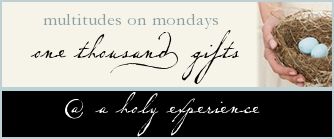 232. relaxing afternoon
233. Mike made us homemade chicken nuggets for dinner
234. I have a good working camera (I often take this for granted!)
235. got a good start for my summer tan :)
236. started up our evening walk routine. . .I love good, warm, weather
237. delicious ham dinner, just because we're loved!
238. lunch with Karyn and her kids
239. free Rita's with mom
240. share a special "candy thing" with my dad (it's the little moments in life that are the biggest blessings!)
241. I finally got an interview with a good company
242. found a new favorite song
243. God is crazy in love with me. . .by choice!
244. special treats at the grocery store (its like being 5 all over again!)
245. that I am an emotional girl, wouldn't trade the emotions God gave me for anything!
246. time to chat and catch up with friends
247. God's amazing creation. . .I love watching spring come!
248. Some chickadee moved into an old birdhouse hanging in the backyard
249. movie night with mom
250. went tool shopping with my dad
251. random family game afternoon. . .that almost never happens!
252. random family pictures, just because, and no one complained about it!!!