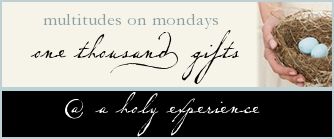 211. the
privilege of praying for

friends personal prayer requests
213. Irene, our Hurricane frog that showed up in September, came back!
214. Woke up early, great way to start the day
215. the ability to learn names really quick, comes in handy as a substitute teacher
216. playground time to get the wiggles out
217. asked to teach an extra day
218. the Spirit's leading to be an encouragement to others, especially those who are always such an encouragement to me
219. new life. . . spring. . .buds. . .blooms
220. a friend's trampoline, talk about a fun workout!
221. the hugs of 4 year olds who barely know me, but remember that I was in their class 2 days ago!
222. included in the teacher's meeting lunch
223. cute shoes, totally made my day
224. got to sub with a friend
225. started a new Bible study topic. . .beautifully broken. so difficult, yet tremendously needed and full of blessing
226. email about an interview next week
227. getting back into the Scriptures after a few days of failure
229. shopping with my mom (plus free fries and green ketchup)
230. gas for $3.05 a gallon!! Thank you Giant points