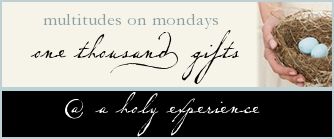 190. my dad taught me to have a good sense of direction
191. reminiscing with friends
192. a job well done
193. able to sleep in and recover from my busy weekend
194. payday
195. the songs God puts in my heart
196. received an email about a potential part time job
197. fixed a major paper jam in the printer without destroying it!
198. found an old Ipod with both my favorite Christian and Disney playlists on it! (Both include songs off missing CDs!)
199. super creative day
200. warmer weather and sunshine
201. lots of energy
202.had fun helping at the preschool (it was slipper day!! I miss all that fun stuff!)
203. lessons on contentment within singleness. . .it was such a breath of fresh air to hear it too!
204. found my missing cell phone
205. started journaling my prayers. . .something I've wanted to do yet I've never really been sure how
206. finished reading Rachel's tears (totally helped me start #205. Fantastic book about the Columbine tragedy in 1999)
207. planning a girl's night, I love organizing events
208. meatloaf and potatoes
209. got some fresh Gertrude Hawk's chocolat candy, dark chocolate peanut butter cups
210. family lunch at Chick-fil-a