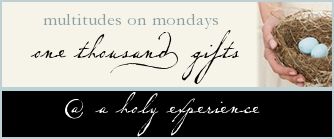 1035. sermons that are applicable
1036. 60% off coupons
1037. prayer
1038. to go mugs so I can take my coffee to my appointment!
1039. quick game of cards before heading to work
1040. snow flurries. . .that aren't sticking
1041. Pandora radio
1042. free photo Christmas cards
1043. hazelnut creamer to put in my free Chick-fil-a coffee
1044. reeses peanut butter cups
1045. no accidents in the morning traffic on the bypass
1046. quick scheduling to get me in for an overdue oil change
1047. Project Life at ACMoore
1048. exchanging fun stories with friends
1049. really cool looking clouds
1050. family video games
1051. my coworkers great work ethic
1052. beautiful weather
1053. remembering to pack a snack!
1054. finally getting a PL mini album
1055. helping my sister with her baking
1056. bonus checks that i wasn't expecting