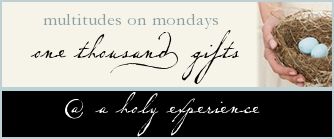 Somehow I forgot to post last weeks gifts so I am adding them to this weeks, sorry for the lengthy post. Hopefully it will still be a blessing! Enjoy your week!
736. very down to earth and applicable preaching
737. fudge from the Outer Banks
738. got a new backyard swing (well new for us, it's a hand-me-down)
739. rain brought in some cooler weather
740. Jesus Christ NEVER changes, even when everything else does!
741. encouraging verse chain email
742. Happy mail challenge
743. made 40 cards in one afternoon. . .motivated and creative today!!
744. old friends reconnected thru FB
745. giant paper pad was given to me instead of being trashed. Thank you! I am using it for everything, even created an easel to hang it on!!
746. putting smiles on people's faces
747. the joy of cooking
748. out to lunch with my mom
749. possible full time job, interview scheduled
750. prayer partners
751. won a giveaway!
752. free prints sale
753. tons and tons of fresh green beans even though the plant looks dead
754. beautiful fall weather
755. family game night
756. spent the afternoon at the park talking with a close friend
757. sermon on encouraging others in the Lord, just what I needed, isn't it awesome how God does that?
758. comfort hugs from friends who understand
759. leftover meatloaf :)
760.reached my 100 card goal. I can't wait to send them all out!
761. God direct cards to encourage. . . I am just randomly sending, but somehow they are getting to exactly who needs them at the exact right moment. The Lord is good!!!
762. cooler weather but plenty of sunshine
763. finally got all my Disney pictures printed out, thanks to many great sales!
764. Big Idea festival
765. double hours for a single shift at work
766. finished my study in the book of Romans- what a blessing that has been to me
767. chamomile mint tea
768. small gifts from my dad
769. yard work
770. vegetable seasoning salt, perfect blend of seasonings
771. interview went pretty well
772. good traffic during rush hour, amazing!
773. hung out just me and my sister all weekend!! (it's been a long time since we've done that)
774. catching up with others about what God has been doing in our lives, nothing lifts the spirit better than that!
775. happy mail in MY mailbox!!!
776. call from a friend to remind me she is praying for me (and right while I was "freaking out" a bit!) Have I mention just how good God is??
777. walking for a cause