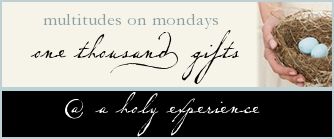 694. chocolate donuts for breakfast
695. matching jewelry sets
696. inspiration
697. encouragement about prayer
698. spiritual gifts
699. finally got my direct deposit!
700. praying mantis
701. 1st meal of garden green beans
702. abundance of tomatoes
703. Sweethaven Summer by Courtney Walsh
704. blistex chapstick
705. found a complete geneology tracing my mother's side of the family all the way back to Germany!!
706. the wisdom in the book of Proverbs
707. the house smelling like homemade soup
708. Carrie had the day off, yeah sister time
709. double morning work shift
710. Starbucks frap (with a gift card)
711. night off
712. heartfelt ceremony for Aunt Ruthie
713. God held off the rain for the burial and reception
714. found Grandma Ruby's gravestone!