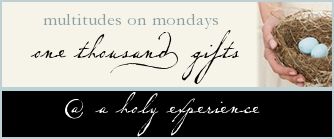 631. fruit smoothie for breakfast
632. good flights home. . .no issues. PTL!!
633. slept in my own bed
634. home with my family
635. full garden
636. pictures turned out great, made a lot of great memories
637. breakfast with mom
638. surprised dad with a new pair of shorts for the updated dress code at work
639. Chick-fil-a sweet tea
640. mom found a new walking partner since I work through her walk time
641. helped build a grill to surprise our neighbour
642. chick-fil-a appreciation day!!
643. afternoon walk with my sister
644. salad with fresh veggies
645. Disney music
646. no work, hung out with my mom, who would have been alone had I had to work!
647. cucumber tortellini salad
648. evening walk
649. test driving trucks with my dad
650. baseball game with my friends
651. paycheck is almost exactly the amount of my trip credit card bill! Isn't God just awesome!?!