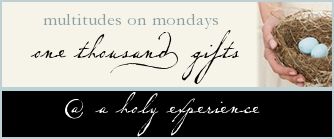 673. fresh homemade tomato-potato soup
674. did a quiet time for our Sunday school lesson, what a blessing!
675. fresh mowed grass
676. watching my dad work on cars
677. a supervisor I can call and talk to whenever needed
678. beautiful sunsets
679. found the perfect thank you gift for a friend
680. giveaways
681. friendly neighbors
682. finished a project from April
683. green bean sprouts
684. God's amazing unconditional love
685. earned $1 off per gallon of gas from Giant!
686. leftovers
687. healthy snacks
688. dependable vehicle
689. the intricacy of a spider web! Isn't God amazing? (even if you hate spiders!)
690. motivation
691. purring cats
692. great weather for a pool party
693. BBQ with great friends