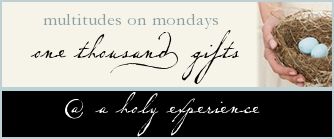 526. assurance of salvation
527. heels
528. helping out in the yard (getting to use power tools)
529. the awesome power of the Holy Spirit
530. a good sale
531. fresh sesame bagels
532. cool breeze blowing through the window
533. handmade cards
534. coffee flavored ice cream (especially on a warm evening)
535. fluffy white clouds in a bright blue sky
536. freshly cleaned bathroom
537. the ease of Becky Higgins products, I am using them not only for Project Life, but a heritage album!
538. teamwork
539. getting wet with the hose on a hot afternoon
540. the amazingness of a lightening storm
541. spending a weekday with my sister! (something that almost never happens)
542. the smile on a child's face just to see you
543. floats. . .doesn't get any better than that!
544. hugs from friends
545. gorgeous weather for tubing
546. aloe vera :)